SSL Wildcard
Proteja subdomínios ilimitados com um único certificado.
O que é um Certificado SSL Wildcard?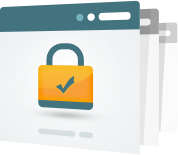 Um SSL Wildcard permite proteger subdomínios ilimitados com um único certificado. É uma ótima solução para quem aloja ou faz a gestão de múltiplos sites ou páginas no mesmo domínio. O custo de apenas um único certificado cobre subdomínios adicionais que poderá adicionar no futuro.
Ao contrário dos certificados SSL normais em que é necessário um certificado por cada Domínio Completamente Qualificado (FQDN), ex: www.oseudominio.com, o que significa que só pode ser usado para o domínio exato para o qual ele foi emitido, um Certificado SSL Wildcard é emitido para *.oseudominio.com, onde o asterisco representa todos os subdomínios possíveis.
O SSL Wildcard é uma opção disponível para os Certificados SSL DV e OV.
Delivered in Minutes for Instant Protection
The fastest and most affordable way to activate SSL protection for your website, issuance is quick and often fully automated.
Trust Site Seal
Our SSL Certificates come with a trust seal that has been proven to increase visitor confidence and customer conversions.
Boost your Google Ranking
Google uses SSL/HTTPS as a factor in determining search engine ranking. Add SSL today to help boost your Google ranking!
Certificate Features
Secure online transactions
99.9% Browser Compatibility
Our SSL certificates are from some of the most trusted brands in Online Security.